Here we are, the 10 of us rocking San Francisco, trying to get visits, doing contacts and overall enjoying!!
We arrived one week ago, after 28 hours flying, the delay of the flight Philadelphia-San Francisco, really tired. Eva was waiting to our arrival and helped us to get to the Orange Hostel.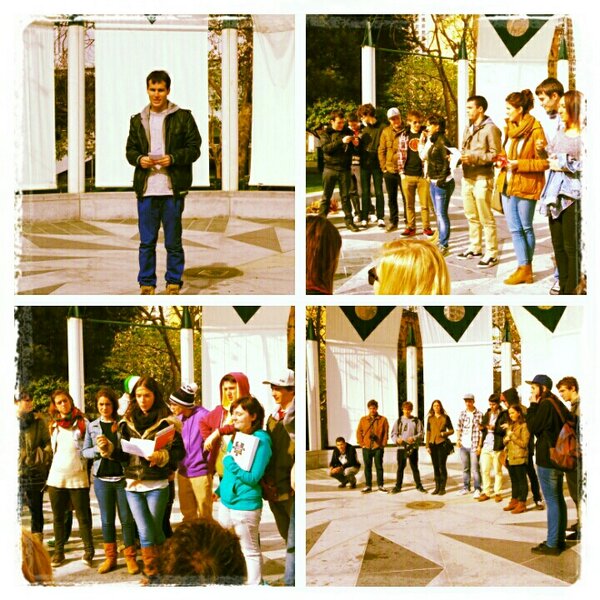 We wake up Wednesday 7th and, we prepare to enjoy and win the Gymkhana! While doing that, we got a wide vision of the city and by the way, we visit a lot of important places such as The HUB, Twitter and Wikimedia. We were doing the Gymkhana for 6 hours!!
After the exhausting Gymkhana of the 7th, next day, we had our first contact with the offices here and first Training Session too, where we were speaking about the calendar of the month in San Francisco, Eva's first week post motorola and checkpoint! Our office space is called Next Space, a co-working space in the centre of San Francisco with meeting rooms, working places, skypecall rooms…
Friday 9th, we had workshop about pitching with Angelika Blendstrup (International communications coach: Presentation/pitch training, branding, accent reduction. Give classes at Stanford & UCs). We present Play This Way C. , South & Roll, MTA Venture Capital and Noanean experiences (with Steps). Angelika was very tough and demanding to the same extent that comprehensive. Finaly we got 2 pitches winning (MTA Venture Capital and Noanean experiences), which have the opportunity to present the 20th in front of a lot of people in the Next Space! Congratulations! Here we have the most important learnings got from Angelika:
1. Be Passionate
2. Get to the point
3. Use the Storytelling
4. "Secret Sauce" (differentiation)
5. Importance of Relationships: Be helpful and optimistic
6. No text in presentations
7. Importance of Social component
8. Ask yourself: "Why should the people care on what I am explaining?" "Why now?"
Weekend arrived! We were visiting the city, Golden Gate, Dolores Park, Painted Houses, Latin neighbourhood… Relaxing after the week!
Monday came, and we went to the visits organized by Noanean to Relay Foundation, Wikipedia, Renaissance and the HUB. All Kibber members were in the visits and we get contacts to develop our projects and also workshop opportunities, but overall inspiration and San Francisco's rhythm examples. In the afternoon, there was the Green MBA event, organized between Dominican University and MU, although the transportation problems, the event was successful and 100 people enjoy it talking about sustainability, cooperativism, innovation and global economy.
Yesterday we had a training session about our focus and goals in San Francisco and talking about the learnings we are taking from the Learning Journey.
Thank you for following us in the blog and remember that you can see all our activities in our Twitter (@kibbercoop) and Facebook accounts!
@juliantxin